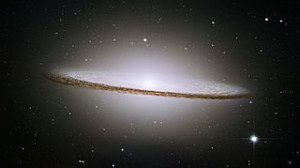 Media pundits and politicians talk about "people of faith" as if these people are some strange anomaly in the world. A mutant form of thinking that must be handled with care or it will explode and keep the rest of the normal people from progressing along the inevitable evolutionary trajectory.
However, every person on the planet is a "person of faith." We all have assumptions and starting points.  We all see life through a grid of those starting points. The scientist looking through the Hubble telescope must interpret what he sees based on his assumptions just like the aboriginal child staring at the night sky in the middle of the wilderness.  The "smart folks" of our day deny this obvious reality based upon – you guessed it – their assumptions.
I'm going to begin in Genesis with a different focus than what you might expect. I'm going to assume it's true. I am not going to try to prove it is true.  Others have worked on that response and have done very well showing the consistency of the Genesis account with what we can observe and reason. But, I will not begin with unfettered reason and observation that wanders into meaninglessness.
I'm going to assume that the Divine Being spoke matter into existence out of nothing. Further, I'm going to assume that this means something and provides the basis for which we think and act in all areas of life. That our words have any significance at all rests in the significance of the words we are about to discuss, "Let there be light."
Beginning with Faith in Genesis
What is faith? Is biblical faith some irrational leap in the dark?
And without faith it is impossible to please him, for whoever would draw near to God must believe that he exists and that he rewards those who seek him. (Hebrews 11:6)
Wayne Grudem, in his Systematic Theology, defines faith as
Trust or dependence on God based on the fact that we take Him at His word and believe what He has said.
This is not faith for the sake of faith. This is faith in the promises of a Person Who is to be trusted. An Ultimate Authority speaks and based upon His description of what is real, we act. We do not come up with our own description and make that the Ultimate Authority. Any time a culture has devolved to the place where "each man did what was right in his own eyes" it didn't end well. It becomes chaos. There is only one unifying principle that can support the weight of the pressure from the ultimate questions: What is real? How do we know it? What should I do because of it?
Now faith is the assurance of things hoped for, the conviction of things not seen. (Hebrews 11:1)
Notice how this verse defines faith. First, faith is assurance that the promises of God are true. Second, faith is the action or response to the conviction that the promises of God are true. These are not observed in the laboratory. They cannot be reasoned from some innate spark of the divine. We have to be told. We are dependent upon the One Who created us. Because a person trusts what is being said, the person acts based on that trust. This is true with anyone, regardless of where that trust is grounded.
Now That's Different…
Christianity is unique in that it is a reasonable faith based upon the testimony of God and what He has promised. You don't check your brain at the front door of the Church, or you shouldn't. There are those who do. There are those who call what they think "faith" when really they are just wishing for something that has little, if any, relationship to God's Word. Don't be one of those.
Think over what I say, for the Lord will give you understanding in everything. (2 Timothy 2:7)
"Think, because it's a gift of God to thinkers," it's been said.
It's a curious thing, really, the method by which God makes these promises. He does it through a narrative, an overarching story line that has a beginning and heads to an ending. There is no composite list in the Bible that states "here are all the assumptions by which to live." He simply begins the story and then presents reality through the lives of people. Through the narratives, poetry, prophecy, and teaching letters, something is being said about God, about us, and how we are to respond to what is being shown.
For by it [faith] the people of old received their commendation. (Hebrews 1:2)
Now these things happened to them as an example, but they were written down for our instruction, on whom the end of the ages has come. (1 Corinthians 10:11)
We are about to embark upon a fairly detailed study of the Book of Genesis. I anticipate it will take us a while. But, before we begin, let's briefly survey the landscape of the book.
Time to Begin
Genesis is a book about faith: the faith of men who trusted God's promises even when they sometimes did not see those promises realized in their lifetimes. It is also a book of beginnings, oddly enough. In Genesis, we see in seed form almost every major doctrine of the Church.
Creation, Fall, Redemption, the promise of Restoration – the great meta-narrative of the Bible – is all within the first three chapters of Genesis and developed throughout Scripture. That's the nature of God's revelation. The idea is planted and is developed throughout the Biblical record, being most expressly revealed in the New Testament through the Person and finished work of Jesus Christ.
By faith we understand that the universe was created by the word of God, so that what is seen was not made out of things that are visible. (Hebrews 1:3)
The smart folks call that ex nihilo. The writer of Hebrews says that the belief that God created the world out of nothing is to be taken on faith. What is the basis for that faith? Is it rational? Let's see as we begin in Genesis 1.